TikTokers have quickly become some our highest earning influencers on the Plug. 💸
One of those influencers is Khalil, a Las Vegas-based app developer turned TikTok influencer. He runs a few personal accounts, the biggest being his TikTok, @khalilslife.
He's regularly earning more than $2000/day in the Plug; with some days bringing in as much as $5,000! Just recently, he broke our single-day earning record bringing in more than $18,000 in just 24 hours. 💥  

Today, we're gonna tell to you how.
Growing a following
Khalil had to experiment a lot before finding his niche.
As he got onto TikTok, he started with a food theme. But that wasn't working.
Then, he tried comedy. That also wasn't doing it.

Along the way, he started experimenting with "story time" posts, where he'd tell a story in a short, TikTok-style video. These started blowing up!  📈

Today, Khalil regularly sees his videos hit 500k+ views.
Generating consistent earnings
As Khalil's account started to grow, he was able to generate revenue through some branding and food partnerships.
These deals were come-and-go, and many times a one off. He never knew for sure what was in the pipeline and was frustrated by the lack of predictability.

The Plug has enabled Khalil to make earn than 2x what he did previously through direct deals with advertisers. Best of all, he can now earn consistently!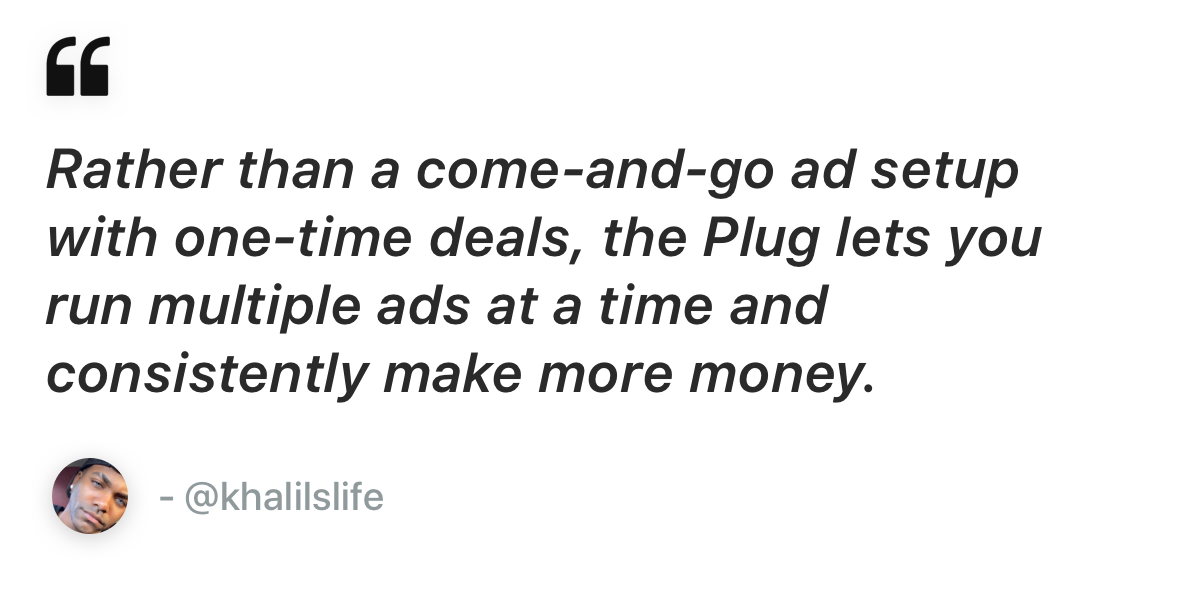 Today, Khalil is earning more than $2,000 regularly, with some days spiking higher than $5,000! All this through the Plug alone. 🤑

By removing the limitations around when you can post—and how often—the Plug allows you to earn daily. Rather than earning money haphazardly through one-off deals.
Maximizing Earnings
When it comes to promos, it's always important to keep experimenting with what's working, and what's not.

For Khalil, he first tried posting ads at the end of his usual content. While this did generate steady earnings, after some time, he started realizing that this prevented his videos from going as viral.
I realize that when I put ads on my viral content, it doesn't go as viral because when I promote an ad at the end, my followers forget to like the video.
Instead, he started posting a regular viral piece of content (without an ad) and waited for it to take off. Once it did, he'd then post a video to his TikTok that's his ad.

Essentially, the viral video will drive traffic to the next one. 🔥
Today, Khalil's independent ads can get as many as 150,000 views, just on the ad alone!

Learn more about our guidance on promoting Plug campaigns on TikTok here →
Custom ads on TikTok earn the most
Khalil has been consistently creating custom ads to promote Plug campaigns.
I try to make them interactive, while following the rules. For example, for the Celebs app, I said, "comment below with what celeb you look like!"
That seems to be working!

Learn more about submitting your own ads in the Plug over here.
A dedicated team at the Plug
With a 7-day dedicated influencer support team, the Plug is always around to help with everything from account questions to finding the best ads/campaigns.  
Contests? Yes, contests! We host regular giveaways where we have prizes ranging from a Tesla to a plot of land in Kansas (or the cash-value, of course) up for grabs.
Apply to join the Plug
At the moment, the Plug is reserved for top-tier influencers. While you don't have to have the same following as Khalil, we do look for high engagement, consistent views and regular content. You can apply right from the Plug app (iOS) or our website here.